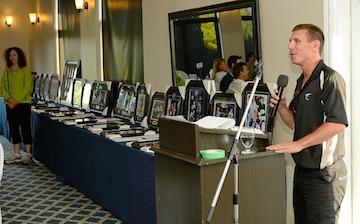 BARRIE, ON - Patrick Brown, Member of Parliament for Barrie on behalf of the Honourable Rona Ambrose, Minister of Health, today announced $799,230 offederal funding under the Government's National Anti-Drug Strategy (NADS), for projects that will help prevent illicit drug use among at-risk youth in the Barrie area.
The announcement was made at the 3rd Annual Shayne Corson & Friends "Start Talking" Golf Tournament.
The project, "The Start Talking About Coping and Drugs Youth Transition Project" (STACD) by the Canadian Mental Health Association is a 3-year (February 2014 – January 2017) initiative that will be implemented across Simcoe County for youth between 12 – 24 years old. The project is funded by Health Canada's Drug Strategy Community Initiatives Fund and operates out of Canadian Mental Health Association, Simcoe County Branch.
Quotes:
"Partnerships with community-based organizations are vital if we're going to help young people make informed decisions and support people with promote better mental health. 600,000 Ontario families are affected by mental health issues and I commend Jim Harris and his excellent team at the Simcoe County CMHA for the fine work they do in our community. I strongly believe that we are all making a real difference by continuing to work together and to keep on talking about addiction and mental health issues." - Patrick Brown, MP for Barrie
"I am very happy to be part of the Start Talking Campaign and applaud all the great work the CMHA does for youth within our communities here in Simcoe County. This is an important mentoring and supportive program for local kids in what may be there most dire hour of need. Many thanks to Patrick Brown and the federal government for stepping up to the plate with funds for this important initiative."
– Former NHL Great, Shayne Corson
"CMHA is excited to offer the Start Talking About Coping and Drugs (STACD) program throughout Simcoe County. This new Health Canada funded initiative will allow youth leaders and our staff to build on the work of the highly successful Understanding our Perspective or "UP" Program. We are grateful for Patrick Brown and Health Canada's past support of the UP program and the continued support of the important work being done by the youth leaders and CMHA with the STACD program." – Jim Harris Director of Support Services, CMHA Simcoe County